I didn't mean to complain about losing a sale.
Of course I didn't like it but am glad that I found out and think I have the right solution.
Got two orders off today. One was for an set of two roses, the gentleman from Indiana had phoned me, he doesn't like using a computer so he sent me a letter with instructions and a check.
The other order was a first for me.
Last week a buyer called from Baghdad wanting 7 Copper Roses. This was first time I have made a sale in Iraq.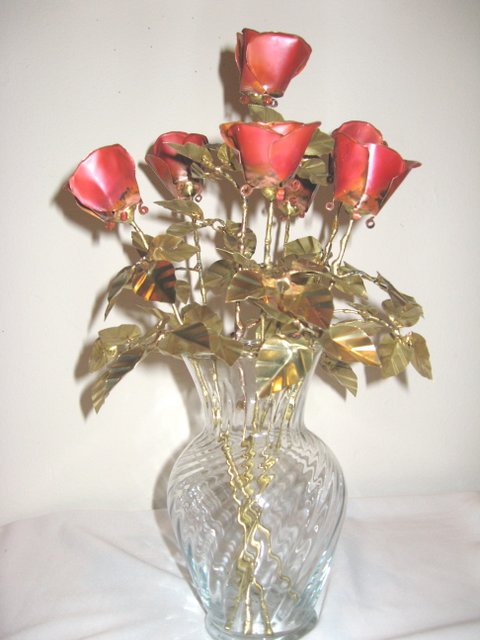 I shipped them to his wife in Hawaii. Wow, Priority Mail is expensive to Hawaii.
I am hoping I will get a couple photos to add to my collection of "Photos from Patrons" web page.

On a very personal note, I had all of my bottom teeth removed, and a denture inserted. I now have a very expensive smile, which is nice. Will post a photo later on, right now I have two round 50 scent size bruises just below my bottom lip. I have tried covering them with make-up but they still show. Am going to visit the dentist early Monday as I have some sore spots that he has to do something about. Right now I can't chew, only sip. Might be able to lose a few pounds which would be very nice.

Hope everyone has a great weekend!