Thursday morning I shipped a copper roses and vase to the Dallas area, (about 200 miles south of me), Express Mail, which is costing almost as much a the rose.
The reason is this gentleman wants it to give to someone with which he has a lunch date on Monday.
I am imagining that it is going to be some lunch.
I am now wondering what he will do when he invites her to dinner?
Maybe - jewelry?

Anyway I am having lovely fantasies.

Today is a good day for them.
Very cold this morning.
We had our first frost, but by noon, it was a warm 74 degrees and a great blue sky.
I have brought in the herbs, some flowering plants, hibiscus, jasmine, lavender and miniture rose.
I hope I can get them to winter over, which might be a fantasy.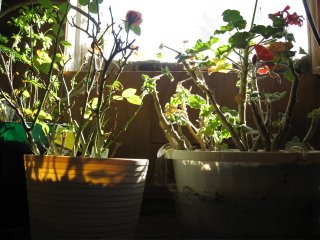 I have good light from the clear story windows that are above the cabinets.

I have a great ladder, so I climb up and water them once a week.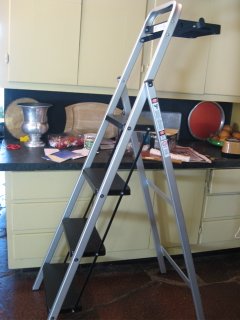 When one is 70, one needs a good ladder.
The others are in front of living room windows which covers one wall.

As the windows are single panes of glass, it does get chilly but there is lots of sunshine.

I do close the drapes when it is very cold.

Now back to work on making stuff for show.