Received a request for a Brass Rose from a man in Texas. So thought it would be fun to make some " Yellow Roses of Texas"
Similar to my Copper Roses this Brass Rose also has Brass leaves.
The rose and leaves are attached to a steel rod which I cover with brass in a way to look like thorns but are not sharp.
It also comes with a glass vase, story card, and a Brass Heart.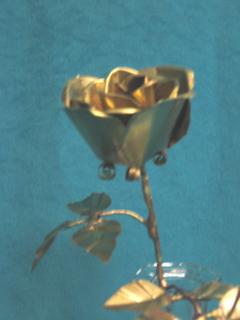 Have noticed a slowing of sales over the summer, do hope with cooler weather, sales will warm up.
Will remind everyone that they can contact me thru my website:
www. Joy@Joygibat.com