Hello!
Have decided to make a little copper heart to hang among the brass leaves of my Copper Roses. I put names and dates on it. So far people have liked it. If you have a Copper Rose of mine and would like a Copper Heart, let me know and I will mail you one. Go to :
Joygibat.com
and email me from there or Joy@joygibat.com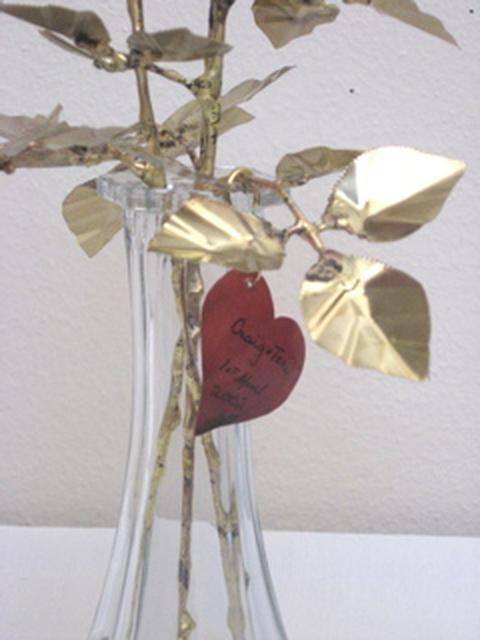 The other crabapple blossoms that are outside will probably get frozen, as we often have freezing weather in Oklahoma during March. Oh well, I can wish and bringing a few inside makes me happy.
The little tree has been here for years, rarely does it bear fruit as it blooms too early.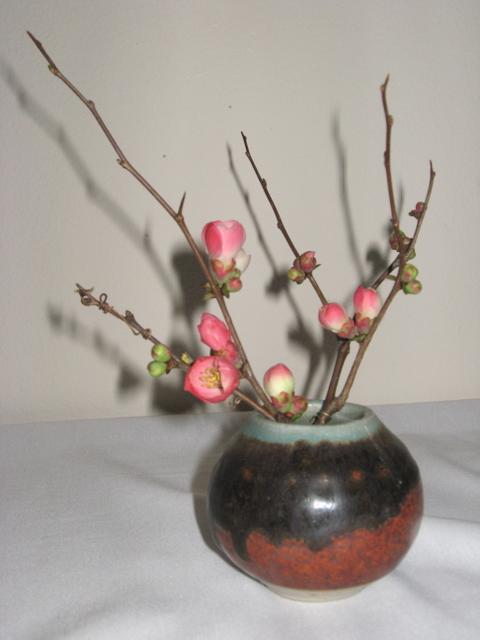 I had a lovely birthday, now that I am 72, think I should start deciding what I want to do when I grow up.
We had a couple of nasty tornados a couple days ago. One of my daughters and I saw the storm approach as we returned from OK City. She took me to a Korean restaurant for my birthday. Had a wonderful meal,
Bibimbap (Mixed Vegetables on Rice) with lot of little side dishes. Then to a Korean grocery store for a big jar if Kim Chee and sauce to make the Bibimbap. I got lovely gifts from my other daughters and grandchildren, it ended up that I celebrated for several days. Very nice.