I have always advised that one use file cards to list what one has sold at shows, put name of show, city, date etc.
and I have always done so until I forgot at this last show.
As the school was taking the money, and I wasn't there all the time, I didn't think it would matter.
Well, it is 2 weeks since the show, I have forgotten now what I took, what was left I put in our little local gallery. The check is on its way to me, but I don't think I will get a list of what sold which will not help me next year to know what to take.
As it was so easy to do with the help of my grandchildren, daughter, and son-in-law that I plan to do it again next year.
This is how my display looked. I should have taken more pieces for the wall, but ran out of time.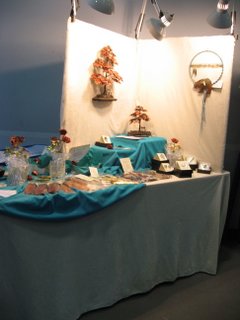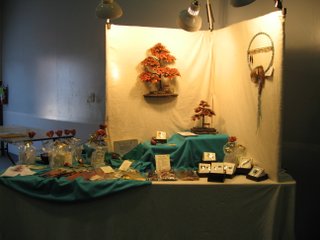 Althought I didn't sell it, I had a couple very interested in the wall tree at $650.
It is pretty. I finished it in time for EBSQ Autumn Foliage instead of Flower of the Month Show .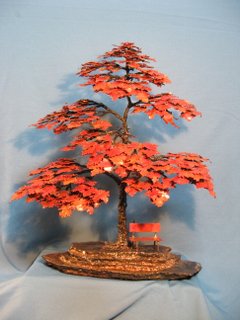 I hope to list it on my website soon.