In the 1940-50s, maybe even the 60s, "Banned in Boston" , usually meant that a book banned there would be a best seller.
Well, I just found out that I am or my website is "Blocked in Kuwait" and I have sold the welded tree that I just listed.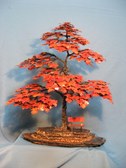 The couple had seen my trees before. A few weeks ago, they tried to contact me, but to no avail.
To quote from their email
"That's what I meant about your website being blocked.....they have seen something there that violates their delicate sensibilities, and so we can't go to your site when we're at home. Strange... D::: thinks it is because some of your art depicts Indian religious symbols, so they'll block it." Except for the censorship on the internet, movies, and radio, it's better than most of the Middle East.

They visited their son in Rome and were able to get in touch with me, so am double boxing the tree and off it goes to Kuwait. I don't have to worry about customs as it will be thru an APO.

(I am definitely a liberal but I have not thought of my website as being offensive to Muslims, but there is the case of the teacher, in Sudan, who named a teddy bear, Mohammad. )

Life is interesting!